Federal Poly Nasarawa Matriculation Ceremony Date for 2020/2021 Session has been announced.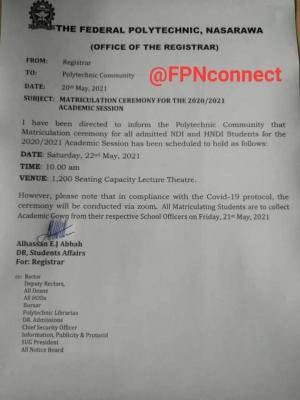 This is to inform the Polytechnic Community that the matriculation ceremony for all admitted NDI and HNDI Students for the 2020/2021 Academic Session
Below is the detailed schedule for the ceremony:
DATE: Saturday, 22nd May, 2021
TIME: 10.00 am
VENUE: 1.200 Seating Capacity Lecture Theatre.
However, please note that in compliance with the Covid-19 protocol, the ceremony will be conducted via zoom.
All Matriculating Students are to collect Academic Gown from their respective School Officers on Friday, 21 May, 2021.
Thank you so much for reading this article, we really do appreciate. We hope you loved it, if you did, please share this page with your friends via the share buttons below. Sharing is caring.