A Nigerian lady, identified as Ikanna Okim has made history at the University of Uyo, Akwa Ibom in grand style.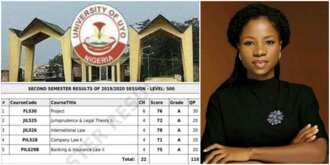 The fresh graduate of law finished with a first-class making her the first student in the 36-year-old history of the institution's faculty of law to achieve the feat.
UNIUYO faculty of law never had a first-class graduate before her
Though UNIUYO was founded in 1991, the faculty of law had however started in October 1985 as a department in the faculty of social sciences when the institution was still University of Cross River, a statement about the faculty on the school's website affirms.
Celebrating the brilliant lady on Facebook, Grace Kalu described Okim as a fervent believer in Christ, author of many books and a social entrepreneur.
Okim was also said to have had a perfect grade in her 500 level second semester in school. She had 5.00.
People celebrate her
Achese Solomon-Koko remarked:
"Super congratulations Remugient progress unimaginable heights canorous success always you shall never go down greater glory Ikan Okim Murray B….you remember the name….Grace all the way."
S-star Harkintolah commented:
"Ikanna!

"I knew you would always stand out wherever you go.

"Congratulations sister "
Elijah Israel Mfon-Abasi said:
"Congratulations beloved Counsel. More wins.

"You deserve it because you worked for it.

"Thank God for His grace."
Chidi Nwalor wrote:
"I have given you a standing ovation. This is not moi moi. Glory to God in the highest."
source:Legit.ng
Thank you so much for reading this article, we really do appreciate. We hope you loved it, if you did, please share this page with your friends via the share buttons below. Sharing is caring.