Rivers State University of Science and Technology (RSUST) notice to students on opening of the portal for hostel space allocation, 2021/2022.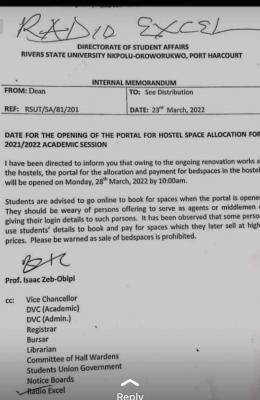 This is to inform you that owing to the ongoing renovation works as the hostels, the portal for the allocation and payment for bedspaces in the hostel will be opened on Monday, 28th March, 2022 by 10:00am.
Students are advised to go online to book for spaces when the portal is opened They should be weary of persons offering to serve as agents or middlemen giving their login details to such parsons. It has been observed that some person use students' details to book and pay for spaces which they later sell at high prices. Please be warned as the sale of bedspaces is prohibited.
RECOMMENDED LINKS:
ALLSCHOOL TEAM
Thank you so much for reading this article, we really do appreciate. We hope you loved it, if you did, please share this page with your friends via the share buttons below. Sharing is caring.