An emerging photo of a recent University of Ilorin examination that featured singer Portable's lyrics has drawn the attention of Nigerians and got many reactions from the public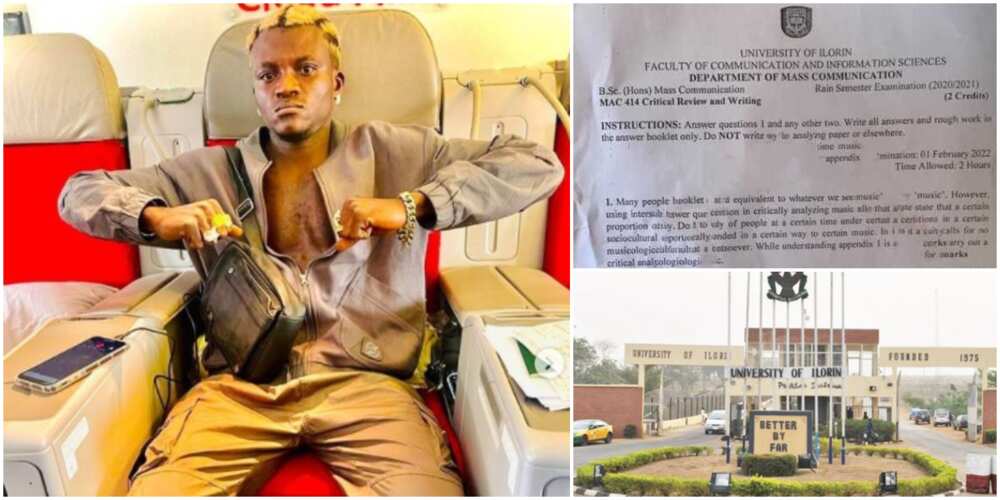 Habeeb Okikiola popularly known as portable was engaged in a recent examination held by the University of Ilorin.
The exam question which focused on the singer's Zazu lyrics was made the number one and compulsory question for students of the department of mass communication to attempt.
READ ALSO: UNILORIN Students wows their Lecturer in Class on Her Birthday (Video)
The question paper has gone viral containing the appendix full of the text singer's lyrics for the song.
The examination was held on Monday, February 1, 2022. Guided by the lengthy appendix, students were instructed to analyze the pop song for 24 marks.
Below are some comments by the public:
@lew_lase opined: "I love how lecturers be relating to media reality but wahala for who's antisocial o."
@anuoluuwarpho reacted: "This lecturer don disgrace my school with this foolish question."
@paschaldose said: "These lecturers are becoming too silly, making the youths believe more that education is scam in Nigeria."
READ ALSO: Coronavirus: UNILORIN instructs foreign students to proceed for medical examination
Thank you so much for reading this article, we really do appreciate. We hope you loved it, if you did, please share this page with your friends via the share buttons below. Sharing is caring.